Structure
Organizational Structure

ADVISORY BOARD
Chairman
Dr. Ir Bambang Setiawan
Members
Sudiarso Prasetio
Edwin Soeryadjaya
Irwandy Arif
Boy G. Tohir
Dr. -Ing Ilham A. Habibie MBA
Irawan B. Koesoemo

NATIONAL MANAGEMENT BOARD
Chairman Tjahyono Imawan
Vice Chairman of Business Partnership & Relation
Ari Sutrisno
Members
Sorimuda Pulungan
Lucas Tetardy K.
Swandi K.
Vice Chairman of Regional Autonomy & Licensing
Supriyanto
Members
Paulus Warsono Broto
Lilik Sutanto
Vice Chairman of Training & Certification
Bimantoro A.
Members
Durban L. Ardjo
Titus Purba
Sumardiman DW.
Investment & Tax
Members
Indra Kanoena
Ratmono R.
Vice Chairman of Public Policy & Advocacy
A. Kharis
Members
Abidin DP.
Vice Chairman of Inter Institution Relationship
Herman K. Kasih
Members
Chandra Kosasi
Soeprayitno
Wawan G.
Expert Group
Dr. Ir. Soemarno Witoro Soelarno MSi.
General Secretary Sufrin Hannan
Treasurer Judy S. Kartadikaria
Executive Director Bambang Tjahjono
BOARD OF ETHIC
Head Irwandy Arif
Members
Budi Santoso
Boy G. Kalauserang
Struktur Organisasi ASPINDO Klik disini
SECRETARIAT TEAM
1. Sekretariat ASPINDO adalah kantor organisasi yang berfungsi sebagai pelaksana harian semua ketetapan dan tugas
harian yang dibebankan Badan Pengurus Nasional
2. Sekretariat ASPINDO dipimpin oleh seorang Direktur Eksekutif yang dipekerjakan secara profesional oleh Badan
Pengurus Nasional dan beberapa staf sekretariat pendukung sesuai kebutuhan organisasi.
3. Organisasi sekretariat dipimpin oleh seorang Direktur Eksekutif dan membawahi beberapa staf sekretariat yang
membantu tugasnya sehari-hari.
4. Tugas pokok Sekretariat sebagai berikut:
a. Melaksanakan program kerja dan keputusan Badan Pengurus
b. Mewakili Badan Pengurus sesuai penugasan dalam berhubungan dengan pihak internal dan eksternal ASPINDO.
c. Mengambil tindakan yang dianggap perlu dalam rangka pencapaian visi, misi, dan program kerja Badan Pengurus.
d. Menyiapkan dan menghadiri rapat Badan Pengurus.
e. Mengelola keanggotaan dan pelayanan kepada anggota.

S
ecretariat
Organizational Structure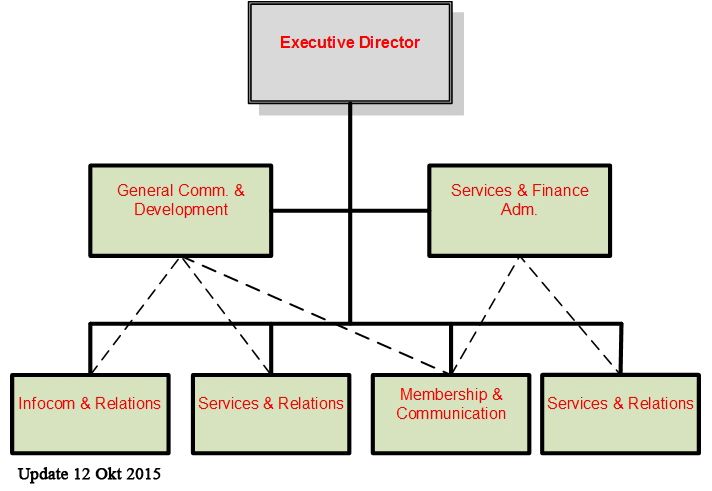 Saat ini anggota tim Sekretariat sebagai berikut:

1. Executive Director (Susanto Joseph)
2. General Comm. & Development (FX. Richard Firmanto)
3. Services & Finance Adm. (Andriyani Girsang)

4. Services &
Relations
(
Donatus Eddy Nugroho)
5. Membership & Infocom (B. Reynusa Paradhipta)
6. Services & Relations
(Alexandria Asty Albertina)